The PALNI Press is a suite of digital platforms to openly publish scholarly, creative, and educational content from PALNI-supported institutions.  It is a service of the Private Academic Library Network of Indiana (PALNI), a collaborative, strategic, and innovative network of private, academic libraries in Indiana.  
PALNI Press Community Catalog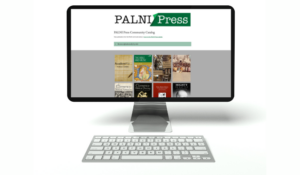 Anyone can view openly published content from PALNI schools by visiting the PALNI Press Community Catalog.
Explore current titles and learn more about publishing with the PALNI Press.
Publish with the PALNI Press
The PALNI Press provides several platforms to publish open access content in a variety of formats, included below.  Explore our platforms or schedule a consultation to learn more.
Datasets
Digital exhibits
Digital scholarship projects
Electronic Theses and Dissertations (ETD) and other student scholarship
Journals (Academic community, faculty, or student-led)
Monographs
Newsletters and other serialized content
Original faculty scholarship
Open Educational Resources (OER)
Open textbooks (original or remixed)
PALNI and the Publishing Services Admin Team currently provide basic level services for PALNI community publications, including project setup and platform hosting.  We also provide limited platform support.   Publishing services such as editorial, production, and graphic design are not offered at this time. See our Policies page.
Member