Vol. 1 No. 1 (2022): αρετή (Arete) Journal of Excellence in Global Leadership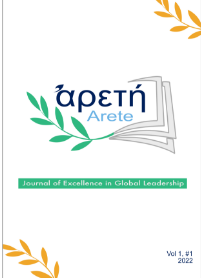 Αρετή: A fundamental principle for Greek culture is Aρετή (Arete).  Arete is an ancient Greek word meaning excellence or virtue.  To Greeks, Arete means excellence in reaching one's full potential.  
Aρετή (Arete)  is published in collaboration with the Global Leadership Institute and Saint Mary-of-the-Woods College.  It is a global, peer-reviewed open-access journal that publishes to a broad audience who appreciate the intellectual breadth of a global theoretical framework.
The first volume contains one article and four critical essay perspectives.
Published: 2022-12-17
Full Issue