PALNI's 2020 Library Services and Technology Act (LSTA) grant, Collaboratively Preserving Rare Scholarship in Religiously Affiliated Libraries: PALNI Last Copies is has officially wrapped! We exceeded our goal of digitizing 240 books, with a total of 446 scarcely held titles contributed from 22 PALNI institutions.
View the collection here: https://archive.org/details/palnilastcopies
(post continues after image)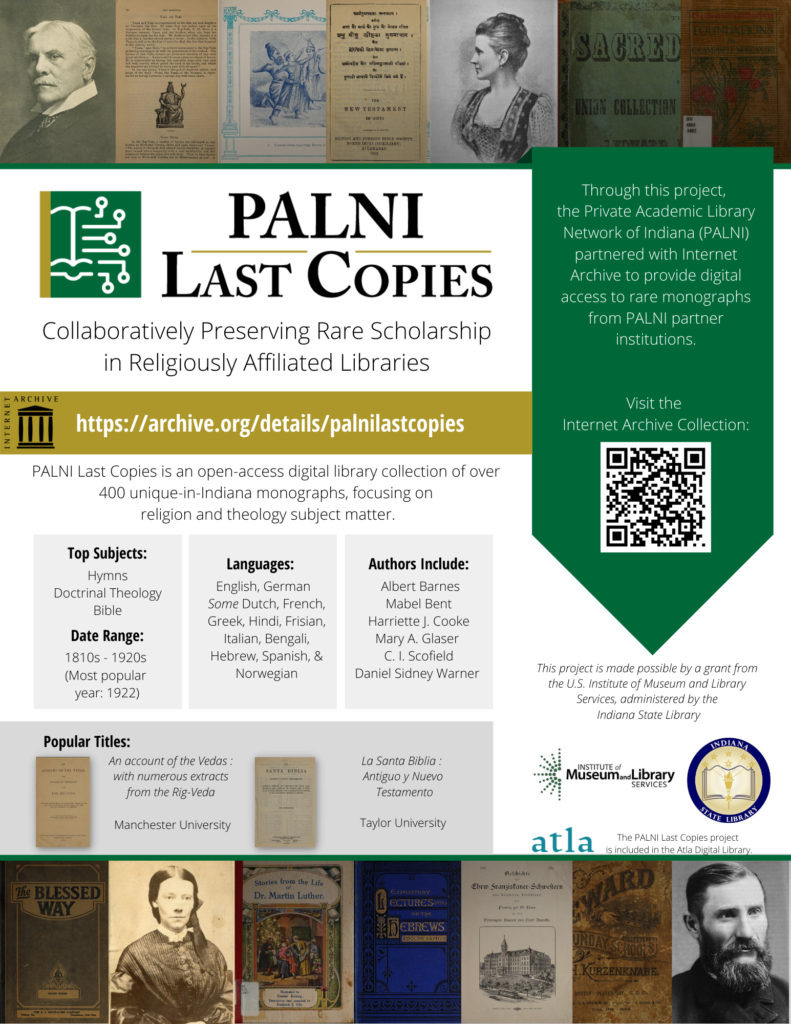 Project Highlights:
April 2021: Scanning continued
May 2021: Project budget revision enables additional scanning of hymnal collection
June 2021: All scanning concluded!
July 2021: Discovery strategy defined, including: Share with Indiana Memory & DPLA; Create new ebook records and a global Knowledge Base collection
August 2021: Project included in the Atla Digital Library!
Project Evaluation
We've scanned a total of 446 books, containing 108,846 pages, and 20 foldouts.
The collection has been viewed 5,072 times (a 744% increase since March!).
Top viewing regions from the last 30 days are 1) California, 2) Virginia, 3) Hunan, China, 4) Indiana, and 5) Germany.
An account of the Vedas : with numerous extracts from the Rig-Veda, from Manchester University, has been viewed the most — at 154 times since uploaded on March 19, 2021.
Most titles are accessible from the first page of results in a Google search.
Next Steps
Now that the project is officially over, there are just a few activities to wrap up, some ongoing work to do, and the potential for new directions.
We will complete the CONTENTdm collection and work with the Indiana State Library to share metadata with Indiana Memory and DPLA.
As an ongoing project, we will continue to create ebook catalog records and complete any metadata cleanup needed in Internet Archive identified through that process.
Finally, we may explore potential scholarly publishing activities such as digital scholarship projects, digital exhibits, the creation of open educational resources, and research around resource scarcity.
Many thanks to PALNI-supported institutions for their participation in PALNI Last Copies, and to our partners at Internet Archive and Atla!
This project is made possible by a grant from the U.S. Institute of Museum and Library Services, administered by the Indiana State Library.